I had a wanting for a lighter soft actioned avon style rod ,it had too be light ,it has too be less than 1lbs Tc .I sometimes find a avon rod even a 1lbs TC rod too powerful ,and a float rod too underpowered .and I like too fish on the lighter side .
I have a 10ft light float rod (my old trent rod project 2pce whole cane with split top section cane to split cane) which was ok ,although the tip I fitted at the time a little too soft (it came from a flyrod ,a jap import) So that's going too get a stiffer tip fitted .that'll be good for trotting smaller waters .but i'm now after a rod for crucians ,small tench & perch. so need something a little forgiving but still handle a bigger fish should they come along.
I prefer a two piece rod with a .75 lbs Tc ,that can be used for short distance float fishing with wagglers ,lift method etc or light ledgering ,able to cope with fish too 5-6lbs etc soft enough for lighter lines .
so I looked through my stash of doner rods in my work room ,then the attic stash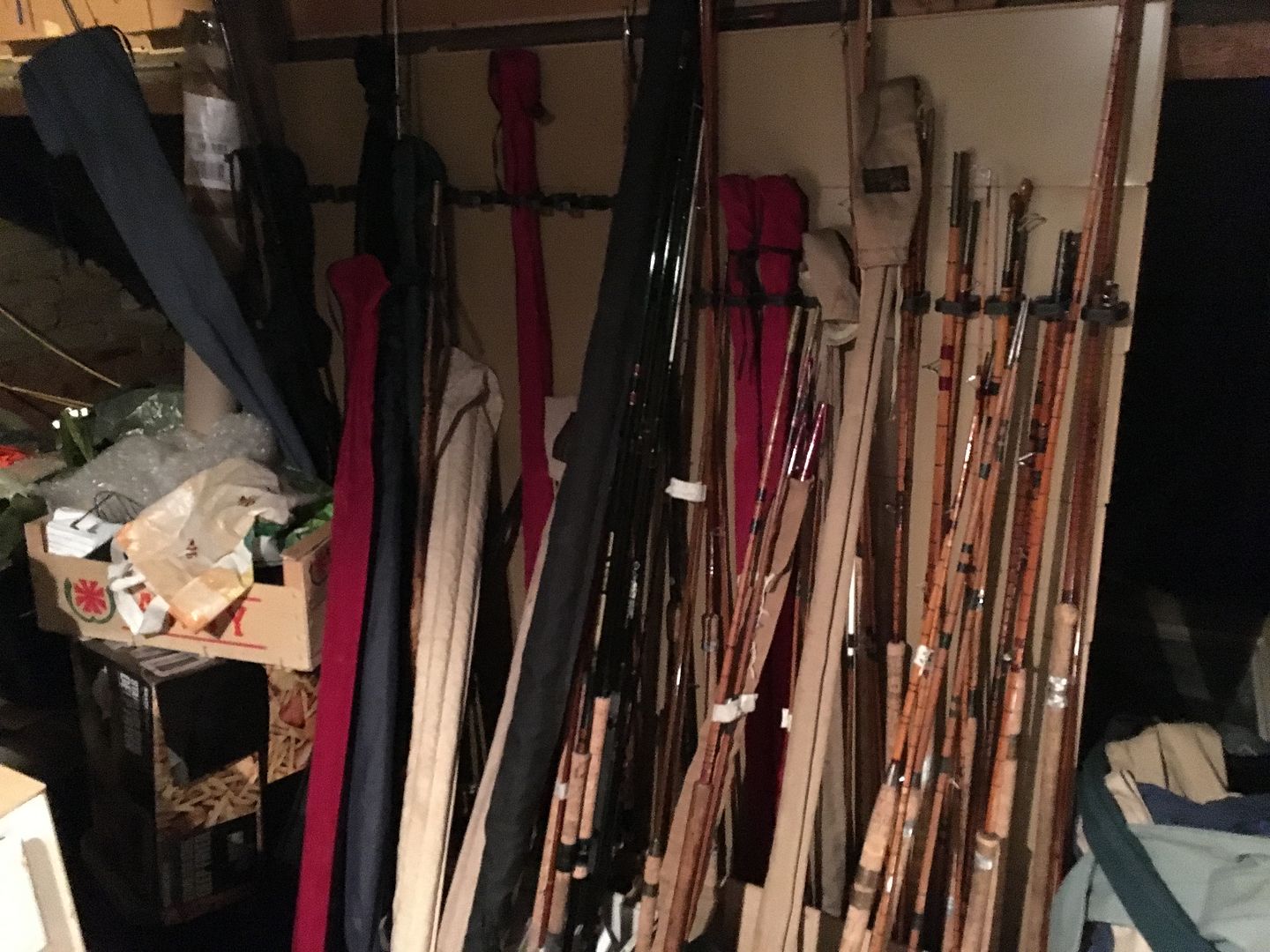 I found a 7wht flyrod ,i'd brought this for a different project as it had two tops ,one had been broken and repaired (then broke again) and a good top ,the good top was used on another project ,I was left with a 4" shorter rod with a repair (not ideal but will do at a pinch and I can replace later) .
the top wasn't quite long enough foe a two piece make over ,but I did have enough for a chapmans .500 style rod with a detachable handle and shorter sections give or take a inch or so trimmed off .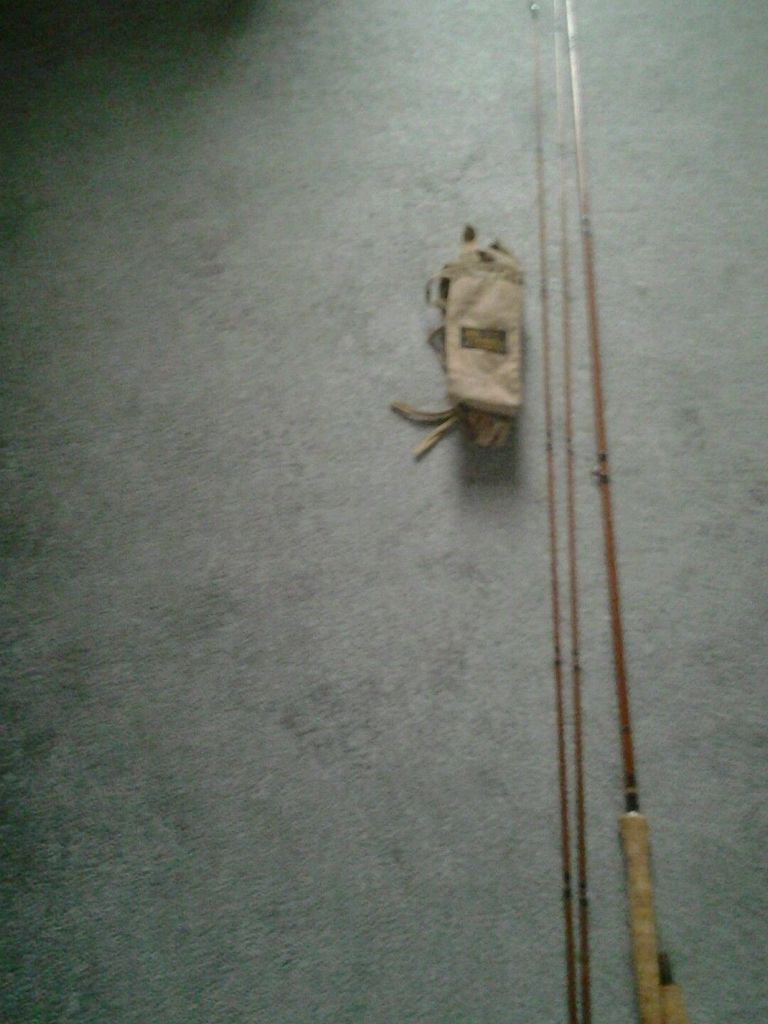 a bit of a rough flex test ,and compared it with my flyrod (same maker but lighter wht rated (5/6 wht ) the doner being from the same range but a 6/7 wht rod .it was soft enough for what I was looking for .dimension wise being a fly rod and soft action your not looking at like for like .a proper coarse avon will have a tip dia of around 0.o98" - .108 quite a fine tip ,for a similar action /flex a 7wht equivalent tip dia is about 1½ times bigger dia ,your looking at .156 - .167 " ,chunkier but just as soft etc.
so a bit of measuring and a bit off here and a bit off there and I have two equal lengths with mid ferule fitted .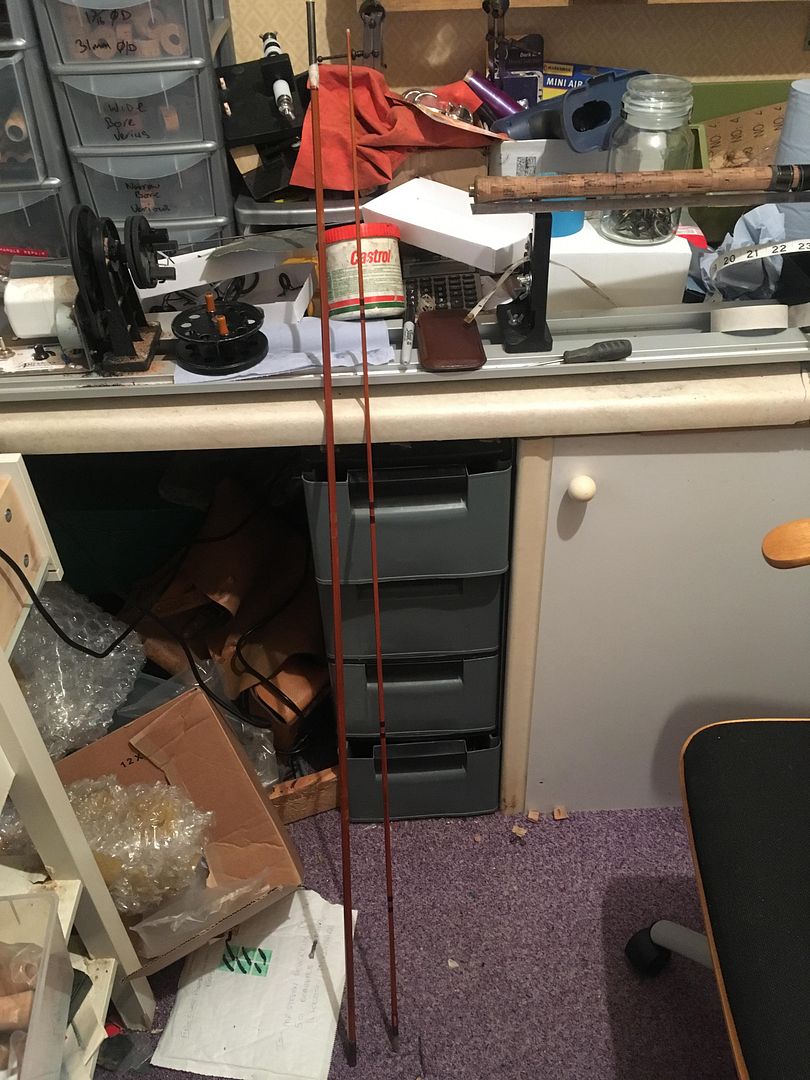 well the bare bones blank sorted 2X 4ft sections ,next job make a 24" detachable handle ...